ROCKY4 Trivia
ROCKY4

1. Some of the fight scenes between Rocky and Drago where real as director Stallone wanted the action to look as authentic as possible. As a result,
Dolph Lundgren accidentally broke three of Sly's ribs.
2. When Rocky tells the Russian crowd "That's better than 20 million people killing each other", the ring announcer translates it as "Ehta luch'e chem dvadtsat millionov dollarov", which means "That's better than 20 million dollars".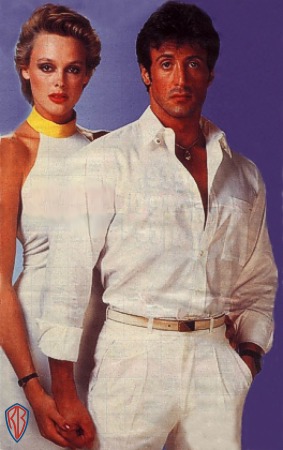 3. Sylvester Stallone was engaged to Brigitte Nielsen, the Swedish actress who portrays Drago's wife, at the time of production. They married one month after the film's premiere.

4. During filming of the training scenes in Russia (actually shot in Wyoming), Stallone began complaining of chest pains after having gone through the exercise where he pulls the sledge of rocks into the air. A doctor's examination revealed that he'd damaged his heart. Production was shut down for two months in an effort to prevent a possible heart attack.




5. Rocky IV was Carl Weather's fourth and final appearance in the series as Apollo Creed.


6. Rocky IV is the only sequel in which Burgess Meredith does not appear.